Big symbol slots are what we like to call slots 2.0. They're pretty much the same games, but better. Instead of having dozens of different symbols on each reel, big symbol slots can have 1 symbol take on multiple reels and rows. That's what makes them so special because they are pretty much a winning combination within itself.
But, much like with regular slots, there can be good, bad and the absolute best big symbol slots as well. We've compiled a list of the top 5 for now, but there are dozens that players can choose from. Naturally, this is our subjective view of these games and the ones our team selected after a decent time with all the games they could get their hands on.
So, without further ado, below you can find a list of the top 5 best big symbol slot games available today. Further below are sections dedicated to individual games and going into further detail.
| | | | | | |
| --- | --- | --- | --- | --- | --- |
| Name | Developer | Reels | Paylines | RTP | Bonus Game |
| Visitors | ELK | 5 | 30 | 96.1% | Yes |
| Great Rhino Megaways | Pragmatic Play | 6 | 20 | 96.53% | Yes |
| 4 Horsemen | Spinomenal | 5 | 30 | 94.5% | Yes |
| Story of Medusa | Spinomenal | 5 | 30 | 96.5% | Yes |
| Big Blox | Yggdrasil | 5 | 243 | 96.2% | No |
Let's go through each of them one by one to see what they truly have to offer.
Visitors
The Visitors slot by ELK Studios is designed around a small suburban area being plagued by flying saucers and aliens. Every so often, when the player lands a lucky 2 "respin" symbols during a spin, a saucer will appear over the slot game and randomly dish our rewards. These rewards can be the following:
An up to x15 multiplier
Big symbol replacement
Sticky wilds
The main feature, of course, is the big symbol replacement. Once the respin symbols are there, a flying saucer will come flying by on the screen, choose one random symbol, and make it big. How big? The size of 4 symbols.
With this kind of boost, landing high-paying combos will be much easier and a lot more common, thus landing the players a better return than with regular symbol slot games. But, for those interested in even more minute details, here are all the "metrics" so to say for the Visitors slot.
| | | | | | |
| --- | --- | --- | --- | --- | --- |
| Provider | Reels | Rows | Paylines | RTP | Bonus Game |
| ELK Studios | 5 | 5 | 30 | 96.1% | Yes |
This game can be found on almost any online casino that has a partnership with ELK Studios. If you're lucky enough, the casino may even accept cryptocurrencies as deposits. But if you don't want to guess at it, you can take a look at our list of Bitcoin casinos to find a more suitable one for your needs.
Great Rhino Megaways
Great Rhino Megaways was developed by Pragmatic Play. You may have seen other versions of this slot like the original "Great Rhino" or the "Great Rhino Deluxe". Those two versions are completely different from the one we are mentioning here. Megaways has a very specific feature, and it's the symbol size. Actually, it's unique in two different ways because of the symbol size. They're both smaller and bigger than usual. Here are some unique features about the GRM slot:
Cascading reels
Up to 9 free spins with x15 multiplier
But no matter how much we talk about additional features, the star of the show is the big symbol of course. But Great Rhino does it a bit differently. These symbols do not span over multiple reels, nor do they span the whole reel, they occupy maybe half a reel at most. This still qualifies as a big symbol in our books. And with hundreds of ways to win something, this slot made it in our top 5 big symbol slot list.
Naturally, here's another table of additional statistics for all the slot nerds out there:
| | | | | | |
| --- | --- | --- | --- | --- | --- |
| Provider | Reels | Rows | Paylines | RTP | Bonus Game |
| Pragmatic Play | 6 | 7 | 20 | 96.53% | Yes |
Great Rhino Megaways can be found on literally every single online casino due to how popular Pragmatic Play is. Because of this, there's a pretty big chance that a Bitcoin gambling website can also feature this slot game.
4 Horsemen
Spinomenal's 4 Horsemen is one of the best slot games to play in general. This made it pretty easy for us to consider it for the top 5 positions on our list as well. With the game's main style heavily steeped into religion, it became popular due to its already widely known background.
The reason why 4 Horsemen is so heavily played is due to its simplicity. The spins are fast and the animations are short. It truly is a game for a gambler in a rush, which is a big plus in our books. But Spinomenal managed to squeeze in the big symbol feature just to somehow spice things up.
The big symbols can take up to 9 spots and act as a winning combination of their own, which is always good to see in a high volatility slot game. Below you can find some additional metrics for the 4 Horsemen slot.
| | | | | | |
| --- | --- | --- | --- | --- | --- |
| Provider | Reels | Rows | Paylines | RTP | Bonus Game |
| Spinomenal | 5 | 4 | 30 | 94.5% | Yes |
Even though 4 Horsemen is a very popular slot game, not all casinos have a deal with Spinomenal, so it may be hard to come by. One place we can recommend where you can find this game is PlayAmo. There's an added bonus of playing it with BTC as well.
Story of Medusa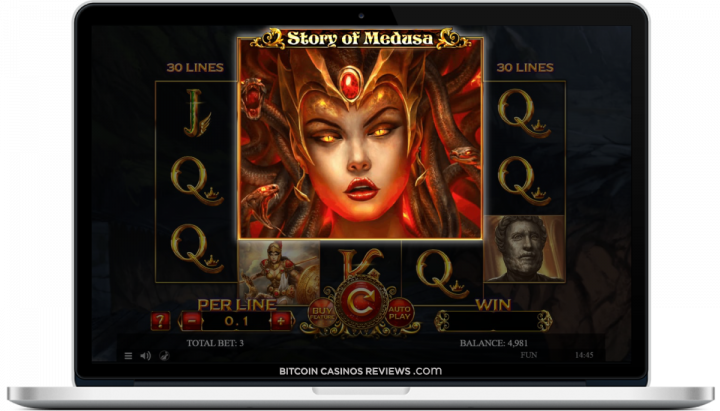 The Story of Medusa slot is also developed by Spinomenal and is very similar to the 4 Horsemen slot. The mechanics are pretty much the same, as well as all the additional features and bonus games.
The only difference is the design of the slot game and the RTP measurement. Whereas the 4 Horsemen slot had 94.5% RTP, The Story of Medusa has 96.5%. Due to that very small advantage, the Story of Medusa slot deserved its place in our top 5 big symbol slot list.
Even though there's nothing too different about this slot, here is some information about its metrics anyway.
| | | | | | |
| --- | --- | --- | --- | --- | --- |
| Provider | Reels | Rows | Paylines | RTP | Bonus Game |
| Spinomenal | 5 | 4 | 30 | 96.5% | Yes |
Much like the 4 Horsemen slot, the Story of Medusa is also hard to come by. We would recommend taking a look at Bitstarz to play this game. Much like previously, there are opportunities to deposit BTC on this casino as well.
Big Blox
Developed by Yggdrasil, Big Blox was our favorite game out of the bunch that we played. That's a pretty hard feat to achieve in a list of best big symbol slots if you ask us.
The one thing that we liked the most about Big Blox was its guarantee for large symbols. No matter what, there will always be a large symbol during your spin. What's up to RNG is how big it's going to be. Here are the sizes it can take:
Small – 4x – guaranteed
Medium – 6x – rare
Big – 9x – very rare
The bigger the symbol, the bigger the win, at least that's the way we saw it. The design of tribal totems is also a pretty nice add-on to the experience. Couple that with wild symbols and you get a pretty well-paying slot on your hands. One thing that's missing though, is the bonus game, but based on the RTP we saw, it's not needed.
Once again, here is some additional information about Big Blox:
| | | | | | |
| --- | --- | --- | --- | --- | --- |
| Provider | Reels | Rows | Paylines | RTP | Bonus Game |
| Yggdrasil | 5 | 3 | 243 | 96.2% | No |
Yggdrasil is a pretty well-known provider, so finding a casino that has Big Blox should not be an issue. If you're looking for one that offers a way to deposit with cryptos though, we recommend TrueFlip as a perfect option. Not only does it have BTC, but other coins such as ETH, DOGE, and LTC.