Folsom Prison is an impressively realistic and unique-themed game that brings a different, adventurous gaming experience to players. This is not a classically themed slot machine. The realistic characters, storyline, and real action make the gameplay very exciting. When the game provider company is NoLimit City, it should not be unusual to play with amazing graphic artwork and diverse bonus features. This is one of the leading companies in the gaming industry, which is players' favorite for its diverse game portfolio. Folsom Prison is one of the great products from NoLimit City, which instantly became popular and frequently played among users. The game was released in the middle of June 2022.
As the title shows, the main storyline is about prisoners. Here the players will play with different dangerous murder characters and scary prison symbols, which brings a different vibe to the gameplay. Before we outline the specific features and bonuses, here are some facts, you should know about this adventurous slot machine.
Folsom Prison includes 5 reels and changeable numbers of rows from 4 to 6. The size of rows is changing after activating some bonus features. The RTP level is pretty high and equals 96.07%. The volatility level is also high and the total number of betways equals 46 664.
While playing, you can increase your winning chances with different bonus features. NoLimit City provides a high winning opportunity for every kind of player and suggests different multipliers, xWay symbols, Split symbols, and bonus buy option. But this is not everything you should expect from Folsom Prison. If you love bigger challenges and playing for higher payouts, Folsom Prison offers the maximum jackpot amount with x75 000 of your total stake.
All you need to do is to place at least 0.20 USD on the deposit to start playing. The maximum amount of money you can place as a bet equals 120 USD. That means that by playing Folsom Prison, you have a chance to win 9 000 000 USD in total.
There is more we have to say about this unique slot machine.  If you are looking for a unique gaming journey, you should definitely check out our Folsom Prison review down below!
| | | | | |
| --- | --- | --- | --- | --- |
| RTP | Maximum Win | Reels | Paylines | Volatility |
| 96.07% | x75 000 | 5 | 46 664 | High |
Folsom Prison Visuals and Audio
NoLimit City shows the best quality graphic artwork in the Folsom Prison slot machine. The theme, visuals, and symbols are unique and very different from other slot games. From the title, it is already known that the main theme is prison. Each character and background elements are very realistic.  In the main background, you will see the prison building. It includes huge gates, guard towers, and prisoner cabinets.
The main playboard is impressive and unique. Each section is divided into lattices. Behind every lattice is a different prisoner and it will be open after landing the symbols. Because the row numbers are changing, some lattices can be closed on a specific round. Also, the background is changing after the player activates several bonus features.
Here, you will play with regular letters and numbers too. The special symbols, wilds, and scatters are designed with the prison building and red rose tattoo.
The gameplay becomes more realistic and adventurous with the perfectly matched sound effects. The low rhythms and calm notes create a very captivating soundtrack which brings more excitement during the playing. The game is perfect with its features but besides it, it is worth trying for its graphic and sound artwork.
Folsom Prison – How Do You Play It?
The main gaming rule is simple and similar to classic slot machines. The player should match three or a maximum of 5 identical symbols on the reel. This will activate different bonuses or regular multipliers. Folsom Prison includes low, medium, and special symbols. The chances of landing winning combinations can be increased with different bonus options but before we describe them, let's see what prizes you can get from the regular multipliers.
The classic letters and numbers are low-paying ones and they increase your total winning amount only from x0.1 to x0.9. The prisoners can give you multipliers from x0.3 to x0.6 if you land three of these. After matching five of them on the reel, you will increase your total stake from x1 to x2.5. The highest paying prisoner is the old man with a tattoo on his face. Landing this symbol can activate multipliers, x0.6, x1,2, and x2.5 of the stake.
As we mentioned earlier, the game includes special symbols too. These symbols act as wilds and scatters. Also, there are two special symbols: Split and xWays. The wild symbols give the player higher multipliers. They appear randomly in every reel except the first one. Also wilds and scatters substitute regular symbols which raises the probability of landing winning combinations importantly. The scatter symbols activate the bonus round. All you have to do is to land at least 2 scatters on the middle reels or the fifth reel. During this bonus round, other symbols will be substituted by the special ones.
Another great bonus feature is the Walk The line feature which includes Folsom Prison free spins. If you land 3 or 4 scatter symbols, you will get at least 8 free spins. Landing scatters can also activate The Chair bonus feature. This bonus includes 8 free spins with the 3 guaranteed wild symbols during the free spins.
As we mentioned, there also are two special symbols: xWays and split. They appear randomly and transform the regular symbols. It creates more chances to land winning combinations. If those incredible bonus opportunities are not enough, you can use the bonus buy feature called Toast Bet. If you pay 20% of your total bet, you will get guaranteed to scatter symbol on the 2nd reel.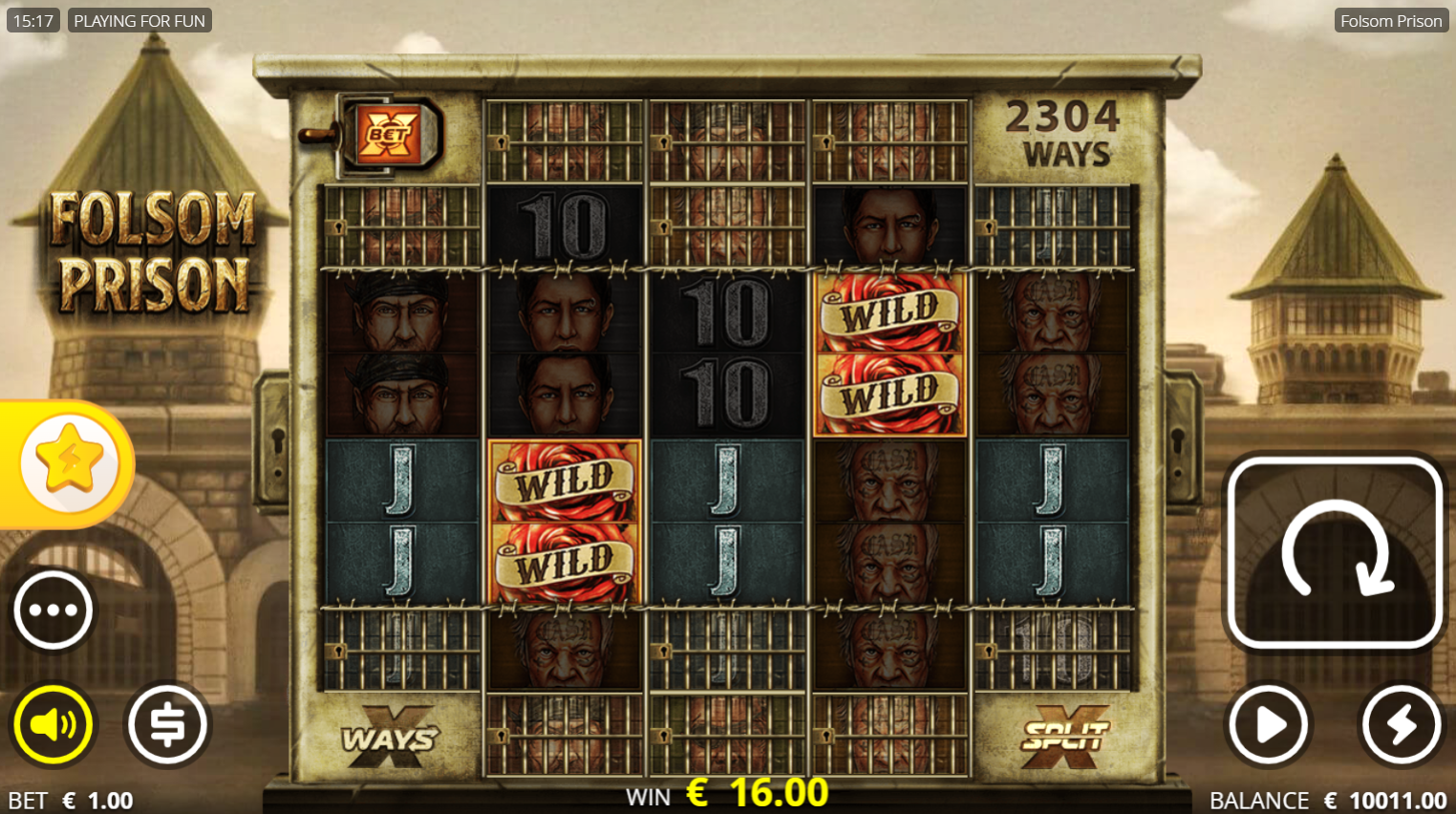 Is Folsom Prison Worth Trying?
Folsom Prison is special with gaming conditions and aesthetics. The impressive graphic artwork is quite rare to find in slot machines. A wonderful soundtrack brings a realistically dangerous vibe to the gameplay. Different multipliers, and diverse bonus opportunities, creates an exciting journey that is definitely worth trying.
The fact that the newly-released game is already very popular and frequently played, perfectly proves that the experience it gives the users is different and full of challenging emotions. With great multipliers, you can increase the total winning amount importantly. The free spins feature comes with two options and includes extra offers during the bonus rounds. The payment for bonus buy feature activation is very low and the main features, such as RTP, volatility, and paylines number create a wonderful gaming condition for everyone.
The main challenge of the game is the very high jackpot amount of 9 000 000 USD. So, if you are looking for a gaming journey with adventures, emotions, and different experiences, do not miss the chance to play Folsom Prison.
FAQs on Folsom Prison