Rabona Review – A Nicely Polished Casino
Established in 2019, offering casino games as well as betting on different sports and unique bonuses are the reasons why we have decided to write this Rabona review. Rabona bookmaker is a new operator that deserves your attention. With lots of games with high RTP, incredible bonuses, and sports betting Rabona offers everything you could expect from the most popular online casinos.
Rabona is owned by the Tranello Group of Companies, registered under Cyprus law, which makes this brand genuine, reliable. At the same time, Rabona offers quick payouts to players.
Rabona understands the interests of its users and provides an exclusive collection of slots. Games with live dealers, board games, from roulette Live to Blackjack Live, Baccarat Live, Holdem poker, and others are available on the website besides sports betting.
It is important to mention here that Rabona not only provides a great collection of slot machines and board games but is equally generous with regard to sports betting. The website allows you to bet on different games such as football, tennis, basketball, hockey, volleyball, darts, eSports, and others.
Rabona crypto bookmaker is also known for offering crypto betting to its players. Currently, only 3 cryptocurrencies are supported including Bitcoin, Litecoin, Ripple and Ethereum.
The online bookmaker with cross-compatible software works with other devices as well including mobile phones and tablets. So, whether you want to play it on your desktop, laptop, tablet, or smartphone, there is a wide choice for every player.
Snippet Paragraph
Rabona sportsbook is a licensed operator. Besides casino games the bookmaker also focuses on sports betting, offering a wide variety of sports. From football to eSports players can place bets on multiple disciplines. Crypto betting is also supported.
Rabona Sportsbook Overview
| | | | | |
| --- | --- | --- | --- | --- |
| License | Cryptos | Sports | Bonus Types | Non-BTC Payments |
| Yes | BTC, ETH, LTC | 28 | 9 | 12 |
As we have outlined all the important features of Rabona bookie, it's time to delve deep into them one by one and see what makes this sportsbook good.
Is Rabona Safe?
Talking about a crypto bookmaker the first thing players should pay attention to is a license. Rabona is a completely legit and licensed sportsbook, owned by Araxio Development N.V. as indicated on the company's website and having a license from Curacao. The latter is known in the gambling industry for its high authority and reputation, which makes us trust Rabona Bitcoin bookie.
The regulation is important for several reasons and sometimes customers tend to underestimate its value for an online bookie. First of all, when a bookmaker has a license – we are talking about sports betting here – odds are fair and open. Every player has an equal chance of winning and the betting site holds no unfair advantage.
Secondly, if a dispute arises with an operator the regulation protects a customer. It is like a shield that also helps in resolving legal matters. With unlicensed bookmakers, it is impossible to do so.
The next thing is the privacy of personal data. With a licensed bookmaker this often becomes an issue. There have been cases of customers being scammed by unreliable operators. If a company has a license from the Gaming Authority of Curacao, you can be sure that you are dealing with an honest operator.
The final thing is the safety of your funds. On Rabona crypto betting site they are secure. In order to trust your money to a bookmaker, the safety of an account is essential. With a license, third parties will have no access to the funds.
Overall, the license is indeed a good thing and equips a betting website with different advantages. Paying attention to the ID of a license as well as the issuer can say a lot of things about a bookie.
Rabona Crypto Deposits/Withdrawals – Are There Other Options?
Currently, Rabona only supports payments in 3 cryptocurrencies: Bitcoin, Ethereum, Ripple and Litecoin. Each of these cryptos has unique features and advantages over fiat money, which definitely makes it better for betting.
Cryptos provide a high level of security, anonymity, and speed of transactions. With them, commission fees are very low or in some cases even do not exist.
| | | | |
| --- | --- | --- | --- |
| Coin | Fee | Min Deposit | Max Withdrawal |
| BTC | 0% | €10 | Depends on VIP Status |
| ETH | 0% | €10 | Depends on VIP Status |
| LTC | 0% | €10 | Depends on VIP Status |
Other Deposit Options
Besides cryptos, Rabona Bitcoin sportsbook also supports depositing and withdrawing money with the help of bank cards (Master Card), electronic wallets (Payeer, Advcash). The minimum deposit is 10 euros and the threshold for withdrawing winnings is 20 euros. For one transaction, you can enter/withdraw no more than 500 euros. On all payment systems, money arrives within 24-72 hours – payments are never delayed. The first withdrawal requires verification, which takes up to 24 hours. This one-off procedure is necessary to confirm the identity of the player.
| | | | |
| --- | --- | --- | --- |
| Type | Fee | Min Deposit | Max Withdrawal |
| Visa/Mastercard | 0% | €10 | VIP Status |
| PostePay | 0% | €10 | VIP Status |
| Trustly | 0% | €10 | VIP Status |
| Skrill | 0% | €10 | VIP Status |
| Neteller | 0% | €10 | VIP Status |
| EcoPayz | 0% | €10 | VIP Status |
| Bank Transfer | 0% | €10 | VIP Status |
| Interac e-Transfer | 0% | €10 | VIP Status |
| CartaSi | 0% | €10 | VIP Status |
| iDebit | 0% | €10 | VIP Status |
| Neosurf | 0% | €10 | VIP Status |
| Interac Online | 0% | €10 | VIP Status |
What Sports Does Rabona Support?
Rabona sportsbook is famous for its diversity of sports disciplines. From football to water polo players can place bet cryptos on almost any sports. We could describe all the sports in Rabona, but there are way too many to go one by one. Thus we have decided to pick out the 3 most popular ones, which are football, eSports, and tennis.
Football
Football betting on Rabona crypto sportsbook is the most popular option for punters. On the website over 100 leagues are supported from the top European championships to less popular ones, including the leagues in Africa and Asia. Here we should also emphasize that tournaments like the Champions League and Europa League are available with rich betting opportunities.
Punters can place bets on almost any option they prefer. From winning of teams to statistics everything is available in its section. Odds compared to other bookmakers are better and fair.
Players are also able to bet not only on pre-match games but during live as well. Things change pretty fast in football matches so punters have the possibility to carefully observe the continuation of the game and make bets accordingly.
eSports
Betting on eSports with Bitcoin is another popular betting opportunity for players on Rabona Bitcoin betting site. In this section, the following games are represented: Call of Duty, Dota 2, FIFA, Counter-Strike, NBA 2K, League of Legends, and StarCraft 2. Considering the discipline's growing prominence in recent years eSports betting is widely incorporated in different sportsbooks, with Rabona being no exception.
Like in football, punters are able to place bets live during the process of a match. In eSports major tournaments are held frequently and they are always available on the website. It is possible to bet on a victory of a particular team, as well as on, team and map handicaps.
On most of the matches in eSports live streaming is also supported. However, you should have an account in order to enjoy this feature on the sportsbook's website.
Basketball
After football, on Rabona, players tend to place Bitcoin bets on Basketball. This discipline is present from the NBA and EuroLeague to specific countries available for betting.
Like in football and eSports, on Rabona bookmaker you can make bets during the course of a particular match. In addition to the winning of a particular team, it is feasible to place bets on total points and handicaps. Total points are especially helpful when two equal basketball teams are competing against each other – there is more chance they will score a lot of points.
The NBA is of course the most popular choice for punters. It is the best and most-watched league in the world, with top players competing against each other. Similar to football and eSports betting possibilities here are vast and diverse.
Rabona Bonus – How Many Types Can You Get?
It is difficult to imagine any online sportsbooks without bonuses and promotions. Rabona bookie is no exception. It offers several bonuses both for casino games and sports betting.
In sports betting, there are 13 Rabona bonuses available. Of course we are not going to talk about each of them, but will pick out two of the most popular ones: The First Deposit Bonus and Weekly Reload promotion. Each of these bonuses also has requirements players need to follow in order to be eligible for them.
| | | | |
| --- | --- | --- | --- |
| Type | Amount | Wagering req | Bonus Code |
| 1st Deposit | 100% up to €100 | x6 | N/A |
| Weekly Reload | 50% up to €500 | x6 | N/A |
First Deposit Bonus
This bonus is available in almost all sportsbooks and is also known as the Welcome Bonus. On Rabona, players, after making the first deposit on their accounts, stated in the promotion can become eligible for the bonus. This promotion only applies to newly registered users and the ones already depositing funds on their account will not be considered.
In order to apply for the bonus, a punter must deposit €20 or its equivalent in different currencies. The bonus is 100% up to €100. However in different countries including Germany, Switzerland, Norway and Finland, the bonus is up to €200. Rabona bonus code is not required – the bonus is activated automatically.
One thing to pay attention to is the wagering requirement. Players must roll over their qualifying and deposit amount more than 6 six times. Players are not limited in the choice of betting options and can choose anything from handicaps to total goals.
The bonus amount is only applicable to sports and cannot be used in other casino games including the live ones. If a wagering requirement is not met in the next 30 days then the bonus will expire. So as we see before making bets and applying for the bonus punters should take a look at numerous requirements.
Weekly Reload
50% Weekly Reload bonus is another incredible bonus that all of the registered users on Rabona bookmaker can acquire. It does not matter whether you are a new or old user – everyone is eligible for this bonus.
Rabona bonus of 50% of the deposited amount is granted every week. In order to qualify for the bonus, a minimum of €20 is needed and the maximum bonus amount is €500 and its equivalent in other currencies.
Punters should also pay attention to different amounts in various countries. For example players from Russia, Poland and Germany will receive a different bonus.
There are 2 main requirements when applying for this bonus: the first one includes contacting the bookie's live chat to redeem the bonus. The second is about playing through the full amount of the first deposit at least once, while the odd should be no less than 1.50.
To make the money withdrawable, a player should first meet the rollover requirement which is rolling over the deposit and bonus amounts six times. If a withdrawal is attempted before meeting these requirements then any request will be declared void.
Like the first deposit bonus on Rabona bookie, weekly reload cannot be used in casino games, including the Live Casino.
Rabona Card Collection Explained
The unique feature of Rabona that definitely distinguishes the bookmaker from other operators is Rabona Card Collection. This feature makes betting process even more appealing for punters and following the guidelines is not difficult. To participate in this promotion no additional money is needed. You actually have the possibility to collect cards of your favorite team and get 100 EUR back on your account after you have assembled the full team.
To get player cards you should exchange them for so-called Rabona Points. It is possible to see the value of a card in points, but you should be logged in to your account in order to do so. Acquiring points is feasible through completing various challenges, which primarily include depositing and placing different bets. After meeting the conditions that Rabona presents points are added to your accounts and in the future Rabona crypto bookmaker plans to add even more football teams.
Challenges take place weekly. Only the first bet or deposit is taken into account when applying for the challenge and after completing all of them you are given 100 more points as a bonus.
1 EUR is equal to 1 point – does not matter if you lose or win. After an event is over you get the points.
It is not over yet. After reaching the total amount of 180,000 points an incredible prize awaits you. You slowly approach the CUP and earn the prize of mouth-watering 5,000 EUR! and after you purchase player cards with Rabona points they do not affect your progress.
As you can see this promotion is truly a mind-blowing one. Accomplishing challenges and assembling teams can lead you to the desirable trophy of 5,000 EUR.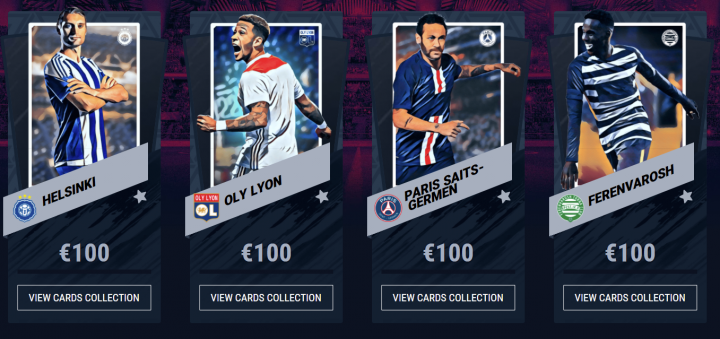 Register on Rabona – Step by Step Guide
The registration process on Rabona betting site is a fairly simple process and resembles the procedure that exists in other bookmakers. The website is compatible not only with laptops and personal computers but also with mobile devices and tablets, thus you can create an account with any device you prefer.
Create Account
Click on the 'Create an Account' icon which is located at the top right corner of the website
Fill out a Form
After clicking the button you will be met with a form you need to fill out. Information includes e-mail, login, password and promo code which is optional. Before clicking the next step you should agree to the privacy policy.
After that you will be redirected to the form which requires more detailed information from you, such as city, full name, country, preferred currency etc.
Choosing the Deposit Method
After that you need to choose your preferred payment system. From then on your account is ready for use and you can start placing bets on different disciplines.

Should you sign up on Rabona Sportsbook?
Based on the information we have provided in this article the final question arises – should you sign up on Rabona sportsbook? Considering the bookmaker's unique bonuses, Card Collection promotion which definitely differentiates it from other competitors, as well as the possibility to make payments with Bitcoin and other cryptocurrencies Rabona is a betting site worth your attention.
What's more, besides sports betting you can also immerse yourself in different casino games from one of the world's most renowned providers. Rabona also has a VIP club for loyal players and a huge variety of sports and leagues.
Even though the sportsbook is relatively a new one, it can boast of having a unique interface, perfect customer support, and 14 languages, let alone an amazing user experience.
FAQ on Rabona Sportsbook