When someone is talking about gambling, some of the first things that come to our minds must be Slots, Roulette, Dice, etc. But now, I want to talk about the best gambling movies which have changed my point of view completely. There are many movies that can play on our emotions and contain the real-life experiences of people, but, in my opinion, there are no better than these five: The Gambler, Casino, Vegas Vacation, Molly's game, and Rounders.
Most of these movies can give us better knowledge about the gambling world than hours of research. They can help us to better understand the reasons why people get addicted to gambling games, what we should consider as risk, what kind of behavior is a sign of addiction and even some basic rules of gambling games.
Besides being an emotional rollercoaster, these five movies are directing masterpieces and star our favorite actors and actresses like Jessica Chastain, Edward Norton, Matt Damon, John Malkovich, Sharon Stone, Robert de Niro, and etc. As a big fan of high-quality films, I recommend you to watch these movies and trust me, you will enjoy every second of them.
The Gambler
The Gambler is a movie directed by Rupert Wyatt. The movie was filmed in Los Angeles, USA, and was released on November 10, 2014. The main character, Jim Bennett, is played by Mark Wahlberg. In my opinion, that was the best role of his career. You can also see great co-stars on the screen such as Andre Braugher, George Kennedy, and Richard Schiff, but they do not really have a big part in the movies.
Thanks to his irresistible gambling habits, Jim faces big trouble. He desperately tries to find a solution to his problems and a way out of the debt, but this path leads him to a hazardous situation. In fact, Jim says multiple times that he is not a gambler. After seeing this movie, you will realize that Gambling is a way out of his miserable life. Actually, he was born and raised in a wealthy family and has a job as a literature professor. That might be a dream for many people, but Jim is fed up with the money, cars, and even women. He just wants to feel alive and take a risk. if you relate to the sentiment you will probably love this movie. For me, that was one of the best movies about gambling.
Casino
The movie was directed by legendary film director Martin Scorsese and like most of Scorsese's work, this film also is a masterpiece. The movie was released in 1995 and was a worldwide box office success." Casino" was nominated for Academy Award For Best Actress in a Leading Role in 1996, Golden Globe Award for Best director in 1996, MTV Movie Award for Best villain also in 1996 and etc. It stars Robert De Niro, Sharon Stone, Kevin Pollak, Joe Pesci, James Wood, and Don Rickles.
The action unfolds in Las Vegas in the '70s. The main character, Sam "Ace" Rothstein, is a Jewish American gambling expert. He was asked to oversee everyday situations in Tangiers casino. The film is about Sam's life during this period: what difficulties he overcomes in his job and in his relationships. Another fact that makes this casino movie very interesting is that the main characters are based on real people. The fictional character of Sam Rothstein is inspired by the life of Frank Rosenthal, who ran several casinos in Las Vegas for the Chicago Outfit.
In my point of view, this movie is very satisfying to watch, because, thanks to Martin Scorsese, besides the interesting plot, there are many beautiful shots.
Vegas Vacation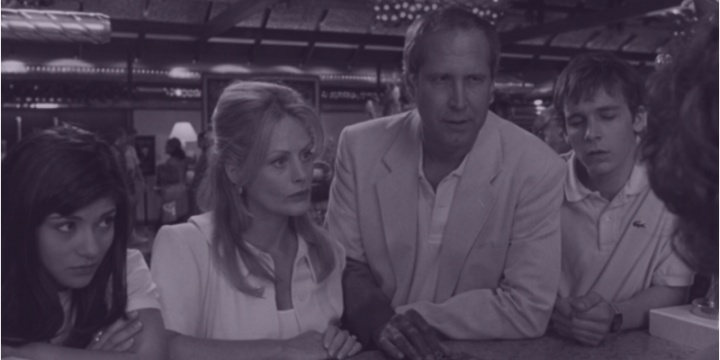 I think that it will not be unfair to say that Vegas Vacation is the best comedy about gambling ever made. The movie was released in 1997 and was directed by Stephen Kessler. The box office of the movie was $36.4 million when the budget was $25 million. The movie stars Chevy Chase, Randy Quaid, Wallace Shawn, Ethan Embry, and Randy Quaid.
The plot is simple: Clark Griswold, who is the main character of the movie, wants to plan the perfect vacation with his family. It may be surprising for some of us, but he decides to visit Las Vegas and have fun in casinos. For some people, jokes in this movie may not be hilarious and even be old and boring, but for me, Vegas Vacation is a classic. This movie has a lot of potential for being watched over and over and for me, this is one of the most important criteria when rating a movie. It may not be the best movie about gambling, but it definitely is the best comedy ever made about this topic.
Molly's Game
Molly's Game is a crime drama about a woman who runs a high-stakes poker game. The film was directed by Aaron Sorkin and was released on September 8 in 2017. The movie stars Jessica Chastain as the Main character, Molly Bloom, and is based on the real story of the woman behind the high-stakes poker game and was just 26 years old.
After ending her career as an athlete, because of an injury at the 2002 Winter Olympics, Molly moves to Los Angeles, instead of attending a law school, as planned. Bloom decides to organize a high-stakes poker game by herself, after meeting a Guy in the gambling business. She uses her intelligence as a weapon and becomes really successful in her job until the FBI indicts her for illegal gambling. The movie follows the life of Molly after her crime was exposed.
Molly's Game is one of the most enjoyable poker Movies To watch because besides the interesting plot, you can observe the transition of an ambitious teenager into the gambling princess and Jessica Chastain's phenomenal acting makes it even more interesting. From the moment you watch this movie, you will be upset with yourself, that you have not seen it sooner.
Rounders
Rounders is another great movie about gambling. The film was released on September 11, 1998, and was directed by John Dahl. The movie was filmed in the USA, mostly in New York. Rounders stars famous actors like Matt Damon, Edward Norton, John Malkovich, and Gretchen Mol. The music in the movie is written by Christopher Young. The film is a drama about the underground world of high-strike poker.
A law student, Mike McDermott who is played by Matt Damon, is a gifted poker player, but he is overconfident. Because of that, he loses his entire money in one game and it causes him to fall into debt. He contacts his friend, Lester "Worm" Murphy, who has just left the prison, for help. You can see the dramatic events, which took place after that, in the movie.
As a poker movie, it is very entertaining and also really knowledgeable. Poker players will also notice that the movie is very well thought out. The great acting of Matt Damon and Edward Norton makes the film much more enjoyable. In My opinion, this is one of the best Poker movies in history.
Conclusion
To sum up, gambling can be a problematic addiction, when it goes out of control, but after watching these movies, in my point of view, we will be able to better understand the reasons of the people who gamble and will not judge them as harshly as before. Besides being a directing masterpiece and enjoyable to watch, gambling movies help us to better comprehend the actions of gamblers, be able to help them when they are in need, and not to repeat their mistakes. Those films are not only about Poker or Blackjack but about deep feelings and life decisions.